Join Us TONIGHT!!!!!
meet old friends & make new friends before the party
.
TV-Land Theme Party
and 'Union Station Homeless Shelter' Food Drive
Saturday Nov 10th
8:30pm - 1:00am
cash only - $25 exact change gets a free movie poster
+ bring item for Union Station Food Drive
Come As Your favorite TV show
TV character, actor, fan,
critic, Joan Rivers, couch potato
(now how hard is it to dress as a couch potato),
WANTED: 20 people to grab a camera &
be the red carpet paparatzzi
****************************************************************************************
meet & make friends before the party
Sat Nov 10th
Pre-Party Dinner meet-up group
7:00 pm
Wokcano
Sushi Bar & Chinese Cafe
33 S Fair Oaks Ave
Pasadena 91105
very inexpensive
Japanese & Chinese food
1/2 block from the party
come early  and relax
get a great parking spot
great if you are coming solo
SUPER SINGLE FUN
The Fabulous Romanesque Ballroom
'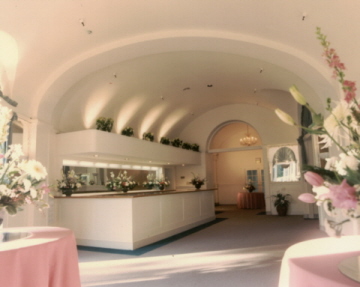 ADDRESS & DIRECTIONS
Green Street Hotel
The Romanesque Room
50 E. Green St,
Old Town Pasadena 91105
Between Fair Oaks and Raymond -  just 1/2 block east of Fair Oaks
ENTER ON GREEN STREET
From the 210: South on Fair Oaks, left on Green, 2nd entrance on the right.
Below is a map of the 9 available parking lots within 1 block of the SuperSingleMixer.
There is also meter parking on most streets, so bring some quarters.
I will keep a bucket of quarters at the check- in desk in case you need to make change.
Ladies, if you need an escort back to your cars at the end of the evening, check in with the host staff.
Carpool with a friend or two, and that should help! :)
Thanks! Rookie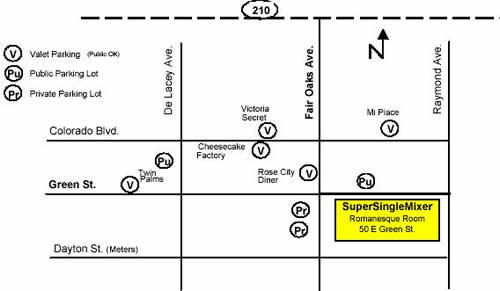 LIST: Valet  (open to public), public, and private lots:
Mi Piace Valet - between Raymond & Fair Oaks.
Cheesecake Factory Valet -between Fair Oaks and Delacy, south side.
Valet - between Fair Oaks and Delacy, north side.
Rose City Diner Valet - Delacy north of Green.
Twin Palms Valet - Green west of Delacy.
Public parking right across from the event at 50 E Green St. between Fair Oaks & Raymond, north side.
Public parking on Delacy north of Green, west side.
Two private parking lots on Fair Oaks, just south of Green, on the west side.
---
Pasadena Union Station Homeless Shelter
Thanksgiving Picnic in the Park
Food Drive Wish List:
#10 cans of  Yams or Sweet Potatoes

(#10 cans are those big huge restaurant size cans. Please bring big &/or little cans. They are needed for the park and/or family donation baskets)

#10 cans of Cheese Sauce

Stuffing

Evaporated milk

#10 cans of Crushed Pineapple

Brown Sugar

Honey

Cream of celery, mushroom, and chicken soups

Onion Topping

Orange Marmalade

#10 cans. Cranberry Sauce

Chicken broth

Pan Spray

#10 cans of Canned Fruit

Dry coconut flakes

Latex Gloves (med and large)

Aluminum Foil

Balloons

Helium Tank

Plastic Serving Spoons

Oven Mitts

Pot Holders
Best place to shop is Smart&Final, Costco and Sam's Club
---
We are proud and pleased to have great
pictures, press, and testimonials.
Join in the next round of
newer bigger better funner events
*******************************************
If you are not on the email list, you may miss out!
*******************************************
If you are not on the email list, you may miss out!
*******************************************
(you are not seeing double - I typed it twice)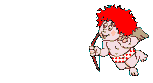 Last dance Saturday Sept 8th
We had over 245 people
and I am very pleased to report the mix was
drumroll please
TAA-DAA . . .
50% Women and 50% Men!!!!!
all the hard work, promotion, referrals & nagging really paid off :)
GET ON OUR EMAIL LIST - Don't miss the next great event!
SUPER SINGLE