Super Single Mixers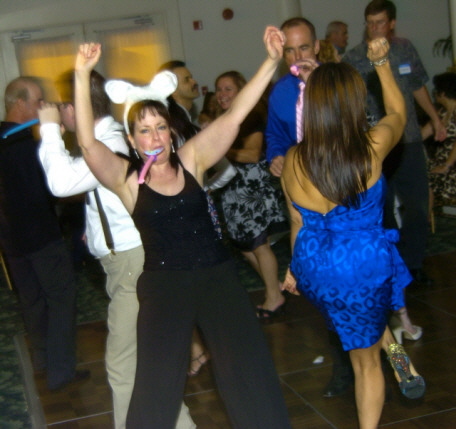 ..
Icebreaker Mixer
.
Dance Party
..,
Saturday August 13
.
8:00 pm - 12:00 am $20 cash at door
Super Single Fun
Free Icebreakers - Free Food - Elegant Ballroom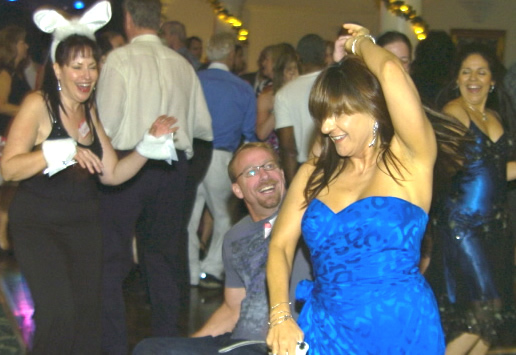 It's a dance - it's a party- it's an icebreaker mixer
age invite is 40 to 60
Fun Events & Best People Ever!
---
Super Single Mixers
fun -fun - fun - fun - fun - fun
---
What is an Icebreaker Mixer???

Super successful icebreakers!!!!
We come up with fun and easy to ways to meet everybody
develop great rapport and make new friends.
---
.
Testimonials
I was thrilled to get this lovely email from Bob L. December 23, 2015 and wanted to share it with you all.
(Bob's and all testimonials are posted with permission).
'I went to your event back on May 2nd at the Romanesque Ballroom in Pasadena and met the love of my life. We have an amazing relationship since then, seeing each other almost every day,
going on some fabulous vacations, spending time with each others' families, etc.  I'm so lucky!  It's been a fabulous 2015 since May 2nd.  Happy holidays to you! Thanks so much for organizing.'
Bob L. Beverly Hills
* * * 
Rookie, Thank you for all of your support . . . you are definitely a single person's angel to feeling comfortable in these situations!
Staci S. Pasadena

* * * 
'I had SUCH a great time at your dance party celebration last night. I danced myself silly. I met so many nice friendly people, I think I even made a few new friends. What a great night! Thanks Rookie for putting it all together and keep me posted for the next one for sure.'
Patricia G. Rancho
* * * 
'Thanks for taking me under your wing, showing me around and doing the first few UnLocks and introductions with me when you saw I arrived on my own. You gave me the courage to stay and have a great time. So glad I attended your event. Thanks Rookie!'
Lydia S. Sierra Madre
* * *
'I attended my first of your mixers last night and I had a blast! Danced all night. Looking forward to the next one.'
Armando M. LA
* * * 
'It was my very first event and I felt very welcomed and comfortable with everyone! It was an amazing thing to see so many people caring so much about others.'
Katharine M, Pasadena
* * *
'Saturday night was my first event with you and I had a fantastic time!  You really know how to put on a fun bash and I enjoyed meeting you and other great people.' 
Maureen A. South Bay
* * *
'What an awesome party! The people were fantastic.  It was so wonderful to hang-out with kids my own age, if you know what I mean :) Keep the parties coming!'  
Renee S. Redondo Beach
* * *
'Just a quick thanks for another great dance; it makes the drive from Thousand Oaks worth it. Look forward to your next one!'
Mark M. Thousand Oaks
* * *
'So many singles our age! We all had a good time and enjoyed meeting nice and interesting people. Rookie, you are an amazing organizer. I'm looking to the next event. Thanks again.'
Sarah G. Arcadia
* * *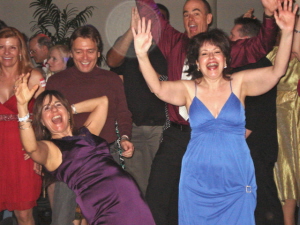 see how much fun you can have
---
Don't miss out! Join Now For Free! 
**************************************************************************************************
We average over 200 very fun people
at our dances
all the hard work, promotion, referrals & nagging really paid off :)
*************************************************************************************************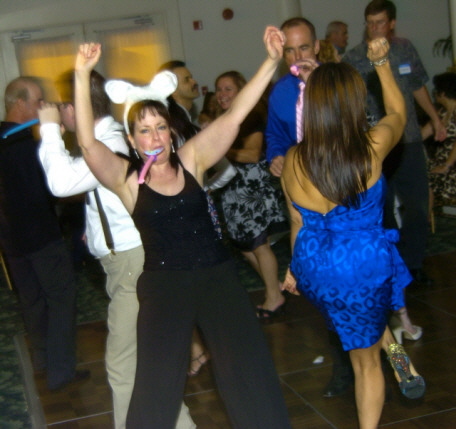 *******************************************************************************************
Dress Code
Business casual to dressy
No jeans please.
**********************************************************************************************
The Fabulous Romanesque Ballroom
'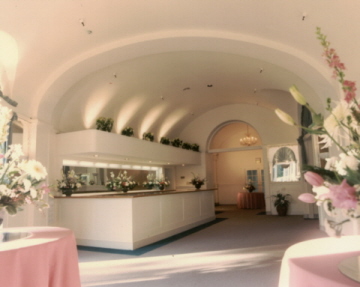 50 E. Green St,
Old Town Pasadena 91105
Between Fair Oaks and Raymond -  just 1/2 block east of Fair Oaks
ENTER ON GREEN STREET
From the 210: South on Fair Oaks, left on Green, 2nd entrance on the right.
Great Parking Idea!!!
Park at the Del Mar Gold Line Station
230 S Raymond Ave
700 parking spots 1 block away open til 2 am $6
OR
FREE parking
at the Sierra Madre Station
800 spots 1 stop from the party Del Mar station
FREE raffle ticket to anybody
who rides in on or parks at the Gold Line Metro Station
1-323-GO-METRO
Below is a map of the 9 available parking lots within 1 block of the SuperSingleMixer.
There is also meter parking on most streets, so bring some quarters.
I will keep a bucket of quarters at the check- in desk in case you need to make change.
Ladies, if you need an escort back to your cars at the end of the evening, check in with the host staff.
Carpool with a friend or two, and that should help! :)
Thanks! Rookie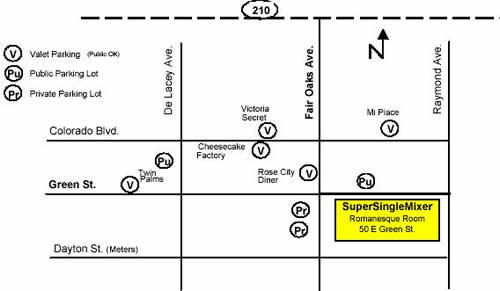 LIST: Valet  (open to public), public, and private lots:
Mi Piace Valet - between Raymond & Fair Oaks.
Cheesecake Factory Valet -between Fair Oaks and Delacy, south side.
Valet - between Fair Oaks and Delacy, north side.
Public parking right across from the event at 50 E Green St. between Fair Oaks & Raymond, north side.
Public parking on Delacy north of Green, west side.
Two private parking lots on Fair Oaks, just south of Green, on the west side.